Time for another edition of Tuesday Tails. We think all dogs should have the chance at a loving, safe home, like our dog Sera here. Unfortunately, it doesn't always work that way, but we can sure try to help those that we can.
I've been talking to our local animal shelter/rescue,
Waggin' Tails Shelter
of Torrington, Wyoming. This week I'm featuring Bella and Loki.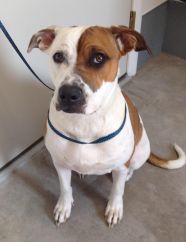 Bella is as beautiful as her name. A family situation has caused Bella to need a new home. She is a 60 pound pretty girl and is 2 years old. She wants to please and will be excited to go to her new home. She is afraid of the shelter cats, at this point, so probably a home with no cats.
They don't think that Bella has ever been able to be a pup. She doesn't know how to play, but the other dogs are working on that. She is a willing student. She likes to hang with all the dogs. She is a great dog and a fabulous pit bull breed ambassador.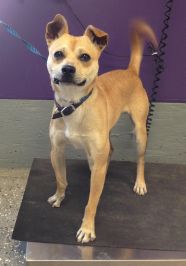 Loki is and 18 pound little guy, between 1 and 2 years old, who is full of fun and vigor. He is a cute, medium sized dog that is ready for walks and play. He is a perfect size! If you can, come meet Loki at the shelter.
Loki is a little dog with a big personality. He like playing with the other dogs, but really just wants a lap to sleep on and arms to love him. Sweet guy.
Either of these dogs would LOVE to have a new forever home. Waggin' Tails has several other dogs and cats who would also love a look. Please consider adoption as an option.
We're joining the Tuesday's Tails blog hop today
hosted by
Dogs N Pawz
and
Talking Dogs
. This is the blog hop that features shelter pets. Find a pet at your local animal shelter or rescue and join us!